US midterm elections: Republicans optimistic of House of Representatives win
The balance of power in Congress still hangs in the balance as vote counting continues following US midterms.
Democrats have put up stiff resistance in some key House of Representatives races, dampening early Republican hopes of a so-called "red wave".
The BBC's US partner CBS News says Republicans are still favoured to win the lower chamber of Congress.
But the battle for the Senate remains too close to call – Republicans need to win just one seat to take control.
Though President Joe Biden, a Democrat, is not on the ballot, the midterms will shape the fate of his agenda.
Key Senate races in Wisconsin, Arizona, Nevada, Georgia are rated a toss-up.
Of votes being counted so far, CBS estimated Republicans were on course to win 198 seats in the House, and Democrats 180.
Republicans were expected to hold on to governors' mansions in the key states of Texas, Florida and Georgia.
Florida's Ron DeSantis and Texas's Greg Abbott are future possible Republican presidential contenders.
CBS projected Mr Abbott has consigned Democratic challenger Beto O'Rourke to his third campaign defeat in the past four years.
The Democratic challenger in Georgia, Stacey Abrams, conceded the race to the Republican Governor Brian Kemp.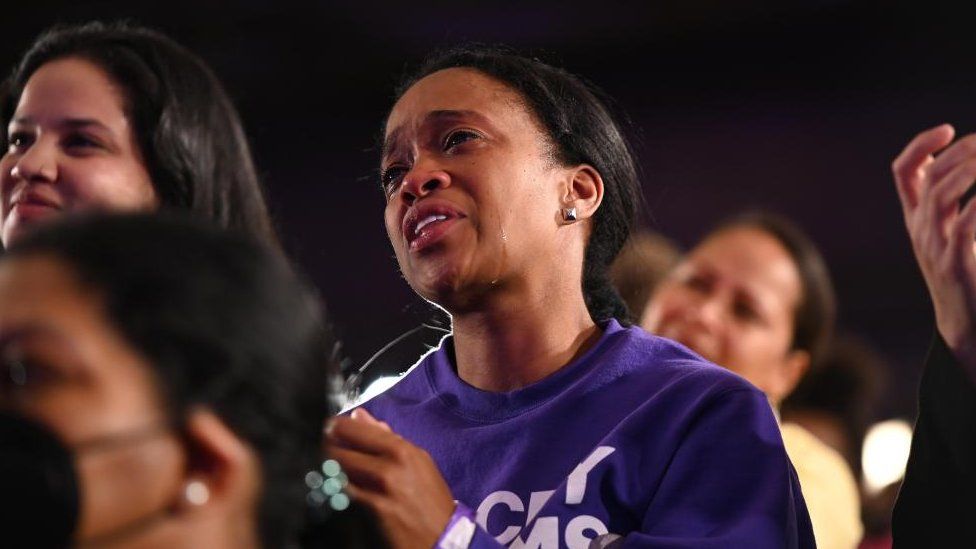 But in New York, Democratic Governor Kathy Hochul was forecast to have fended off an unexpectedly stiff Republican challenge.
And the bitterly fought race for the governor's mansion in Arizona – in which Republican Kari Lake had appeared to have the edge over Democrat Katie Hobbs – has been rated as leaning Democrat by CBS, based on incomplete results.
In the battle for the Senate, the potentially pivotal Senate race between left-wing Democrat John Fetterman and Trump-backed celebrity doctor Mehmet Oz is also leaning Democrat. Democratic Senator Maggie Hassan meanwhile held on in New Hampshire.
Florida Republican Senator Marco Rubio cruised to victory, and author JD Vance kept an open Senate seat for the Republicans in Ohio.
A handful of trailblazers emerged in other projections:
In Maryland, Democrat Wes Moore is set to become the third African American ever elected as governor
In Florida, 25-year-old Democrat Maxwell Frost is on course to become the first Gen Z member of Congress
Markwayne Mullin, an Oklahoma Republican and member of the Cherokee nation, is poised to become the fourth Native American ever elected to the US Senate
The US is set for its first openly lesbian woman elected as governor, with Democrat Maura Healey to become the top official in Massachusetts
Maryland became the 20th state to legalise recreational marijuana, with similar ballot measures put to the vote on Tuesday in Arkansas, Missouri, North Dakota and South Dakota