Tinubu must be sworn-in May 29 – Arewa elders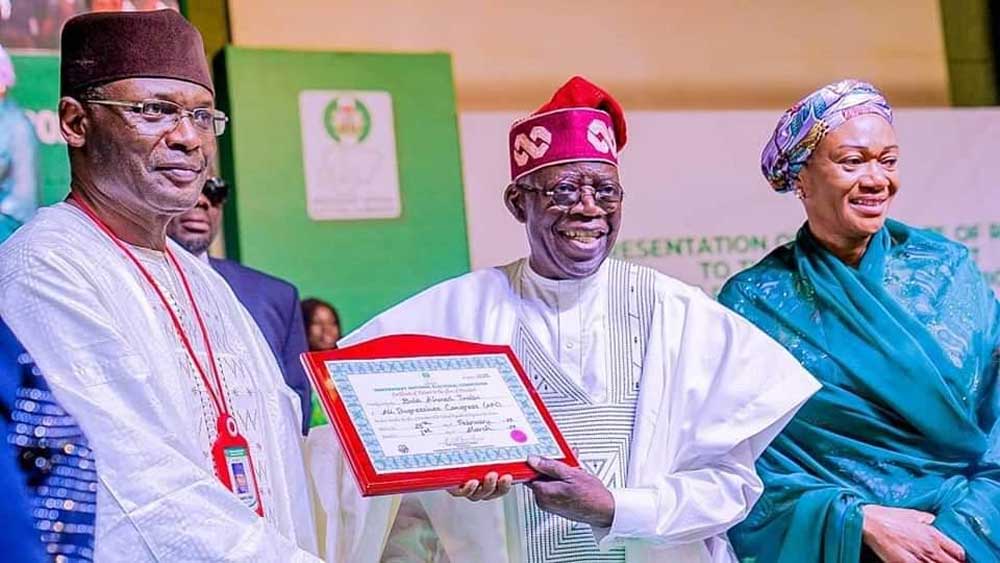 A coalition of Arewa elders has insisted on the swearing-in of president-elect Bola Tinubu on May 29, 2023.
They also cautioned those calling for an interim government in the country to desist forthwith.
The elders' position was contained in a communique read by Suleiman Usman Jere, chairman of the coalition, at the end of a meeting on Tuesday in Kaduna.
Last week, the Department of State Services (DSS) confirmed a plot "by some key players" to install an interim government and stop Bola Ahmed Tinubu from being inaugurated as president.
The group said those calling for an interim government should be arrested and prosecuted.
They also accused Peter Obi, presidential candidate of the Labour Party (LP), and Datti Baba-Ahmed, his running mate, of inciting the public with their statements.
In March, Baba-Ahmed had said the country has no president-elect and that Tinubu would be leading an unconstitutional government if sworn into office because the APC candidate "has not met requirements of the law".
The Arewa elders alleged that the LP candidates were exhibiting "anti-democratic tendencies" to trigger civil obedience.
"We are calling on all our security agencies to be alive to their responsibilities. It amounts to treason for anybody to call for truncating our democracy by whatever guises, be it Interim National Government let alone the call for a military coup. Perpetrators must be arrested and be brought to book with immediate effect," the communique reads.
"Elections have been held and the winner has emerged. The people of the north massively voted for Asiwaju Bola Ahmed Tinubu in the national interest.
''We are mindful of our voting and will stand firm to protect our democracy. We remain committed to the May 29th swearing-in date in line with Nigeria's constitutional provisions.
"If it were to be military officers that have tried what He (Peter Obi) has done, they would have been arrested, detained, and charged for the coup and if found guilty, they would be sentenced to death. Why should the case of civilians trying to truncate our democracy be different?
"The Nigerian constitution must prevail, Asiwaju Bola Ahmed Tinubu must be sworn in on the 29th May 2023. We do not know anything called an Interim national government, it has no basis and nobody has the statutory right to appoint any Interim National Government for this country. We have a constitution and we must do things by our constitution.''