Tinubu Disgraced In Saudi Arabia [Watch VIDEO]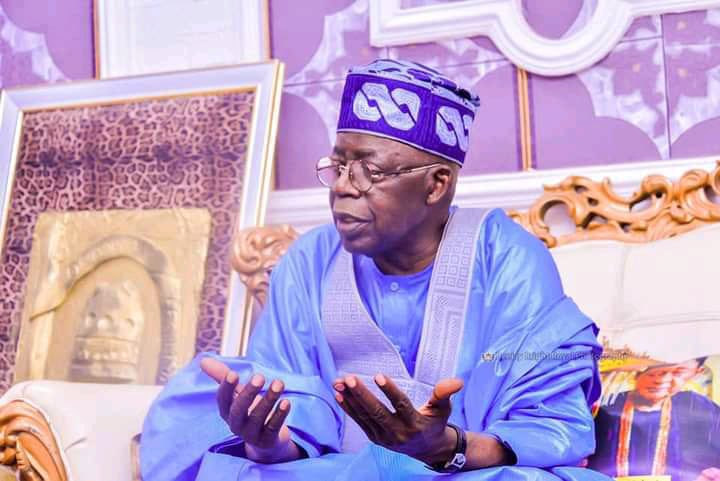 Newsone
reports that a video has emerged on social media showing the moment the National Leader of the All Progressives Congress (APC), Bola Tinubu disgraced himself in Saudi Arabia.
This online news platform understands that Tinubu, a presidential aspirant who is hoping to grab the Presidential ticket of the APC for the forthcoming 2023 Presidential election, is currently in the Kingdom of Saudi Arabia observing lesser Hajj.
Newsone Nigeria reports that Tinubu was seen laughing with some people in a video published by another Presidential aspirant, Dele Momodu but had his hands shaking profusely like that of a sick person.
In the video published on Instagram by Dele Momodu, a Presidential aspirant of the Peoples Democratic Party (PDP), Tinubu tried to cover his hands with the cloth with him but he couldn't as he continued to shake.
Watch the moment Tinubu Disgraced himself in Saudi Arabia below…
Meanwhile, Newsone reports that with "Tinubu hand shakes in Saudi Arabia" trending, the US-based John Hopkins Medicine identifies essential tremor (ET) as one of the conditions that could make human hands shake.
It says ET is a neurological condition that causes one's hands to shake rhythmically. According to the organisation, the condition could involve the head, trunk and voice shaking alongside the hand, but the hand's shaking is most prominent.
The cause is unknown, but it is genetic. It is, however, unclear if this is what Tinubu, who in March 2022, admitted that he was a kingmaker who wanted to be king. The 'Jagaban', as his supporters fondly call him, made this comment while declaring his plan to contest for the nation's President recently.