Spain World Cup captain, Jenni Hermoso 'goes into hiding' with her family and close friends amid kissing scandal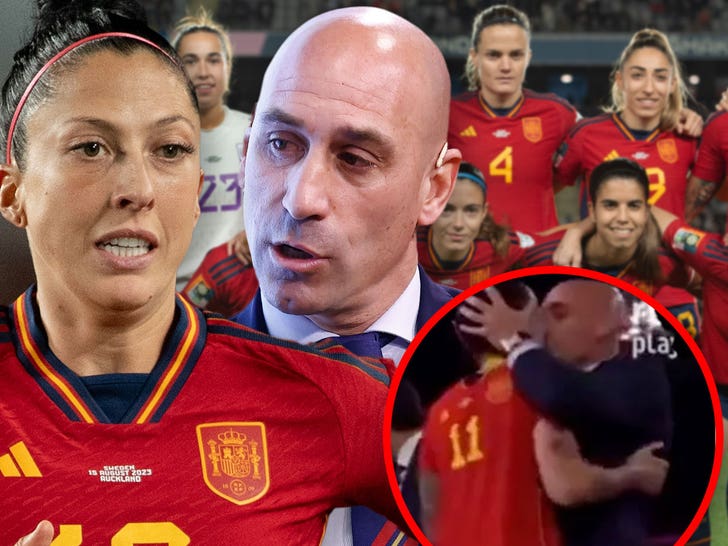 Spain's Women's World Cup captain, Jenni Hermoso has reportedly gone into hiding and is only surrounded by her family and closest friends amid the World Cup kissing scandal.
The World Cup star has been at the centre of a media storm after Spanish FA president Luis Rubiales kissed her on the lips as she went to collect her winner's medal.
She has faced accusations from her own FA of lying following the release of a video that showed her laughing at a meme of the incident.
According to Marca, the 33-year-old has taken refuge in the Spanish capital among family and friends, while remaining in regular contact with her representatives, MKT Jersey, and the players' association, FUTPRO.
The report claims that lawyers for the union are weighing up whether Hermoso should file a complaint of sexual assault to Spain's National Court, which has already opened an investigation into Rubiales.
Hermoso has been advised to refrain from answering calls and going on social media as she considers a return to her club side, Mexican outfit Pachuca.
The forward, whose last public appearance came last Saturday when she was seen in the box of the Wanda Alcala de Henares Sports Center to watch the Women's Cup final, is said to be keen to return to the side as soon as it is feasible.
Having missed the start of a Liga MX Femenil season that got underway last month, Hermoso could feature as early as a Pachuca's next game against Mazatlan on September 5.
But that will depend somewhat on the fallout from the video which surfaced on Wednesday.
Rubiales sent FIFA a copy of newly released footage showing the women's football team celebrating and joking about his infamous kiss.
The clip was uploaded to X, formerly Twitter, by journalist Alvise Perez, and in it Hermoso can be seen laughing at a meme of her being kissed by Rubiales.
Now it has emerged he has sent the video to FIFA HQ to try and clear his name and a source close to him told MailOnline: 'This video is gold dust for Rubiales.
'All along we have said for Jenni to tell the truth. There was no sexual assault. If there was why was she laughing and joking?
'She waited more than three days to make a complaint, If she was that offended why not say something straight away, and why joke about it with teammates?'
Meanwhile, Rubiales, who is serving a 90-day suspension from FIFA, broke his own cover to collect his mother from hospital after she became ill while on hunger strike to support him.