See Faces Of Ajah Policemen Caught Drinking Alcohol On Duty…(Photo)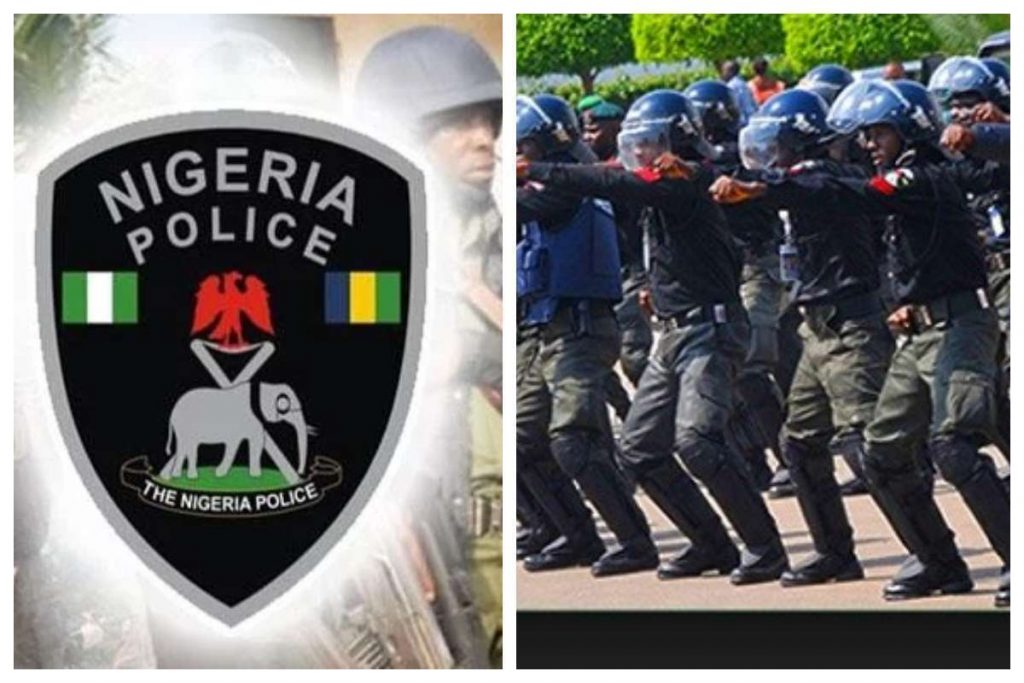 Policemen attached to the Ajiwe Police Division, Ajah, Lagos State, regularly abuse alcohol which may be responsible for the increasing rate of extra-judicial killings by cops from the station.
Investigations by PUNCH Metro showed that residents and business owners also observed the trend.
According to them, the policemen are always under the influence of alcohol while on duty and on patrol.
They said this might be responsible for the recent killing of a pregnant lawyer, Bolanle Raheem, by an Assistant Superintendent of Police, Drambi Vandi, who was attached to the station.
Two weeks earlier, an inspector, Imeh Johnson, attached to the same division, also shot dead another resident, Gafaru Buraimoh, who was on his way to buy fuel.
When our correspondent visited the police station on Tuesday around 10am, some of the officers were seen clustered in pairs outside the premises.
A closer observation revealed some of them consuming alcohol in sachets, while heavily armed.
One of the two officers, who sat close to a barbing salon attached to a building beside the station, was seen with a glass cup of beer, which he sipped at intervals.
A policeman among another set of officers who took cover under a shed adjacent to the station was seen drinking a canned alcohol drink with a pistol strapped to his waist.
While some vendors found around the police station made some of the alcoholic drinks available within the officer's reach, other officers stayed away from prying eyes by walking a distance to patronise other traders.
After observing this for close to one hour, a fair-looking officer, who was earlier seen pacing around the corridor of the station, beckoned on our correspondent.
Close contact with him showed that he was drunk, as his body reeked of alcohol.
While this reporter thought he was about to be questioned about his presence around the police post, the policeman, who sounded incoherent, requested a sum of N200.
Out of curiosity, the reporter gave him N1,000 in expectation of his balance.
PUNCH Metro also learnt that the police officers paid regular visits to some alcoholic vendors behind a motor park under the Ajah Bridge, where Raheem was shot dead.
Our correspondent, who visited the spot and mingled with some of the street urchins, observed as they hailed some of the policemen, who came to patronise a female customer spotted at a corner under the bridge.
A resident, Soliu Adekanmbi, said the officers were known for their open abuse of alcohol.
He said, "The officers do things the way they like and nobody is checking them. It looks like nobody can confront them. Most of them are always with alcoholic packs while on duty. They drink them here under the bridge while in uniform. It is what everybody knows, but no one can say anything since the police authorities have done nothing about it."
Our correspondent also gathered that most of the policemen had spent a long time in the area and had refused to be transferred.
A community development association chairman, who spoke on condition of anonymity because of the sensitive nature of the issue, said this had contributed to their excesses in the community.
He said, "Most of the police officers have turned this community into their permanent place. Most of them rise through the ranks to retire here. That is why they have become uncontrollable. Some have spent between 15 and 20 years in the station. Anytime a transfer comes, they manipulate it. They know who to settle. Even in Langbasa Police Station, there is one Supol Sunday and one Inspector Yomi and up to 10 of them who have spent up to those number of years. They do not want to leave the station because of pecuniary gains. When the first incident happened, they changed the DPO. But the one that happened on Sunday shows it is not about changing DPO but the policemen."
The Executive Director of the Rule of Law and Accountability Advocacy Centre, Okechukwu Nwanguma, said drinking on duty contravened the Police Act of 2020.
He said, "The Police Act 2020 is very clear on the use of alcohol among police officers. It prohibits police officers from drinking alcohol while on duty. It also provides penalties for persons offering or selling alcohol to police officers on duty. [/b]Drug use and abuse among security agencies, including the police in Nigeria is very high. [b]Police officers in uniform enter beer parlours with arms, sit and drink alcohol. This is prohibited under the law, but it has become a usual spectacle.
"There is no other way to explain what has happened to the woman (Raheem) other than that the officer acted under the influence of alcohol, because how do you explain that a police officer would simply pull a trigger on a woman who was not armed?
"One of the issues that came up after #EndSARS was the need to do a psychological evaluation of police officers, especially those who handle arms to be sure that they are mentally stable. But this did not happen. Even the recruitment procedures have been compromised. People who are unfit find their way into the police because the guideline for recruitment is circumvented. There is the need for a genuine commitment to implement reforms that address these problems, as well as competent leadership both at the level of the police and at the political level."
According to the state Police Public Relations Officer, Benjamin Hundeyin, it is an offence to drink on duty.
He said, "If a police officer is drunk while on duty, it is a disciplinary offence and there are laid down procedures dealing with such a person. It is the duty of the DPO or any officer that discovers the same to bring him for disciplinary action."
–PUNCH.