President Tinubu Signs AU Charter On Rights Of Persons With Disabilities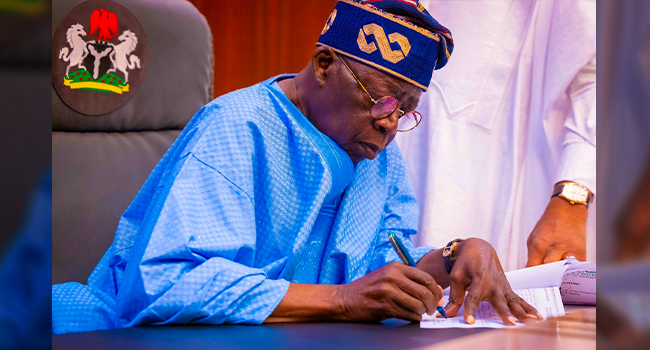 President Bola Tinubu has signed the instrument for the ratification of the protocol to the African Union (AU) charter to promote the rights of Persons With Disabilities (PWDs) in Nigeria.
The President made this known in a statement issued on Thursday in Abuja by his spokesman, Ajuri Ngelale.
The Editor Nigeria reports that the instrument was adopted by the 30th ordinary session of the AU assembly, held in Addis Ababa, Ethiopia on January 29, 2018.
The charter states that PWDs shall have rights to equality, non-discrimination, and equal recognition before the law, among other benefits.
The President promised to protect the rights of PWDs in the county and ensure that their well-being is catered for.
The statement reads: "I, Bola Ahmed Tinubu, GCFR, President of the Federal Republic of Nigeria, do hereby formally declare that the Federal Republic of Nigeria accepts the aforementioned protocol and undertakes to faithfully perform and carry out the stipulations therein contained.
"In witness whereof, I, President Bola Ahmed Tinubu, GCFR, have set my hand and Seal of the Federal Republic of Nigeria on this instrument of ratification at Abuja on this 19th day of October in the year Two Thousand and Twenty-Three."
In recent weeks, the National Commission for Persons with Disabilities (NCPWD) alleged that PWDs were excluded from the palliative distribution initiated by the federal government to reduce the impact of the removal of the petrol subsidy