Mr Macaroni,Rinu Oduala 'having a laugh' after APC releases new 'exercise' video to prove Tinubu's fitness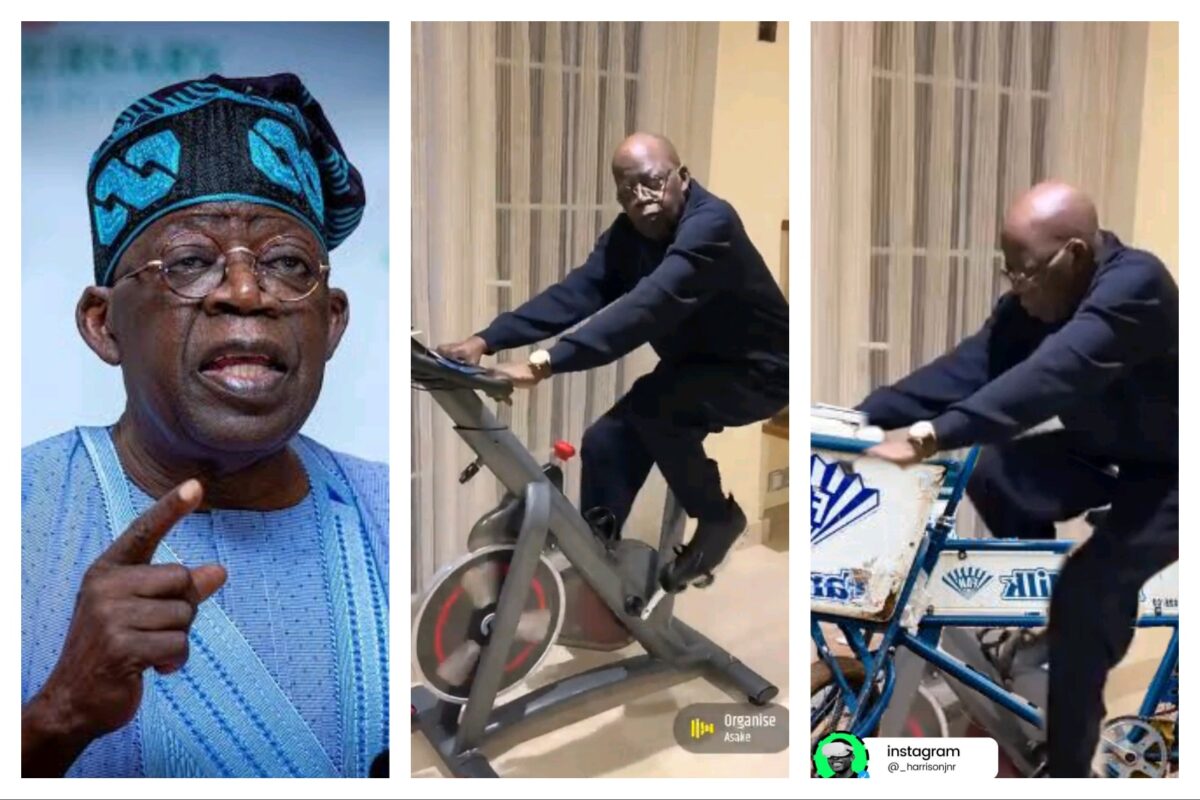 As the 2023 general election draws nigh, Netizens have thrown a subtle shade at the All Progressive Congress(APC), presidential candidate, Bola Tinubu.
This comes after Bola TInubu released a video of himself cycling seriously at his convenience to debunk rumors that he has passed away.
Reacting to the video, Netizens slammed him for releasing such a video to prove he is alive, hale and hearty.
Tinubu who was absent from the peace accord organised by the National Peace Committee was reported to have jetted out of the country on a medical trip to London, United Kingdom.
Bola Tinubu tagged Mr Macaroni
While human rights activist, Rinu Oduala reposted and simply tagged the video "Mr Macaroni" reminiscing the nursery rhymes which is currently trending on Micro-blogging platform, Twitter, others went the extra mile to make comic photoshop out of the video.
Daniel Regha wrote: "Tinubu, Nigerians have seen u walk on many occasions, u riding an exercise bike doesn't change the fact that u have medical! issues. Ur team is putting a lot of effort into ur PR but at the end of the day, nothing! ng change; The APC is a fai!ure, & u are unf!t to run for presidency."
Rinu Oduala wrote: "Politics in Nigeria is a comedy show."
August Oka wrote: "Even that comedy is embarrassed
Kelechi wrote: Affliction shall never rise again. God please rescue us because what is this Scooby Doo show."
Alhaji Beardless Smallie wrote: "Make all the aspirants just do 100m race. Anybody wey win go be president abeg, una matter don tire me."
Savage wrote: "Cassava garri ẹwà eheheh.
Henry Shield wrote: You are strong for riding a cycle for 7 seconds abi? Ogbeni, come and put a thread through a needle in public let's see."
Ebimor wrote: "They should show us the video of how he got on that bike. For him to even post this video shows that he isn't healthy. God will punish all those packaging this man. Do they think we are fools? What's the meaning of this nonsense? I'm sure immediately he gets down from that bike na drip straight."
Trisha wrote: "Imagine if the person didn't capture it well and had to do it again."
Comrade Poimen wrote: "If Jagaban eventually become a president, this app will definitely be ban. This ratio is too much. Mr. Macaroni riding on a bicycle."