Kanu speaks about IPOB and freedom of religion in Nigeria
Kanu speaks about IPOB and freedom of religion in Nigeria
Kanunta Kanu, the younger brother of Nnamdi Kanu, leader of the outlawed Indigenous People of Biafra (IPOB), says the separatist movement has been "championing freedom of religion across Nigeria".
Kanu, via his known Twitter handle on Saturday, referenced 'a 2017 video', which he said affirmed his claim.
He was reacting to a past anti-IPOB statement credited to the Nigerian presidency.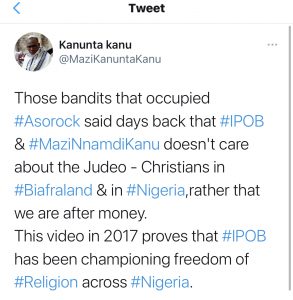 "Those bandits that occupied #Asorock said days back that #IPOB & #MaziNnamdiKanu doesn't care about the Judeo – Christians in #Biafraland & in #Nigeria,rather that we are after money.
"This video in 2017 proves that #IPOB has been championing freedom of #Religion across #Nigeria," he wrote.
IPOB is a secessionist group that advocates for the creation of the independent country of Biafra. The pro-Biafran movement, led by Nigeria's minority ethnic Igbo community, has deep historical roots. In 1967, following two failed military coups and targeted ethnic violence and persecution, the Igbo people came together to form the secessionist state of Biafra, triggering a brutal two-year civil war during which the Nigerian military imposed a blockade of the state, which caused between 500,000 to 2 million civilians to die from starvation. Ultimately, Biafra surrendered to the federal government, but pro-Biafran and anti-government sentiment remained and has hardened in recent years.