FG To Release Over 4,000 Prison Inmates, Raises Fund To Pay Fines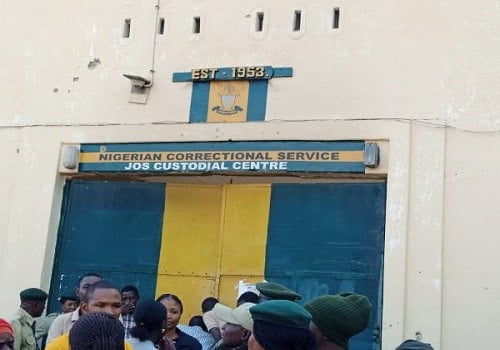 The Federal Government has begun the release of inmates from prisons across the country after raising N500 million in fines for their release.
The Minister of Interior, Olubunmi Tunji-Ojo, made this known at the weekend during the flag-off of the programme at the Kuje Medium Correctional Centre in Abuja.
Tunji-Ojo said the release of the inmates is targeted at addressing the problem of overcrowded custodial centres, adding that the funds were raised by individuals, groups and corporate bodies to facilitate the release of the inmates.
The minister stated that all inmates in custodial centres who have fines or compensations to pay, not exceeding N1 million, will benefit from the gesture.
He said: "It's with great pleasure that I stand with you today to flag off the release of 4,068 inmates sentenced to various terms of imprisonment with the option of fine and compensation in custodial status nationwide.
"This is in our bid to decongest custodial centres and make them humane for proper reformation and rehabilitation of offenders.
"As of yesterday, there were about 80,804 inmates in 253 custodial facilities nationwide, which total installed capacity for the 253 Custodial Centres adds up to less than 50,000.
"This shows that our custodial facilities are over-crowded, thus necessitating this initiative we are witnessing today, which is targeted towards addressing the overcrowding conundrum bedevilling our custodial centres and their reformatory function.
"Most of the inmates are indigents who cannot afford to pay their fine languishing in custody."
Tunji-Ojo said the released inmates have been equipped with the required training to impact their lives and make them self-reliant when they are integrated into society.
He said the Bola Tinubu administration is committed to transforming custodial facilities to ensure compliance with international human rights standards and good correctional practices.
He added: "Suffice it to mention at this point that we are not just releasing them to their fates; we have given them requisite training aimed at impacting their lives functionally.
"As well as equipping them with knowledge for their self-reliance upon discharge and reintegration back into society.
"The training also covers their civic duties and responsibilities as citizens and strategies for refraining from re-offending.
"By so doing, we will be promoting public safety and, by extension, national security. It behoves on all of us, therefore, to ensure that we support offenders' reformatory process."