Breaking!Deborah Samuel: 2 Injured As Police Disperse Muslim Youths Protesting In Sokoto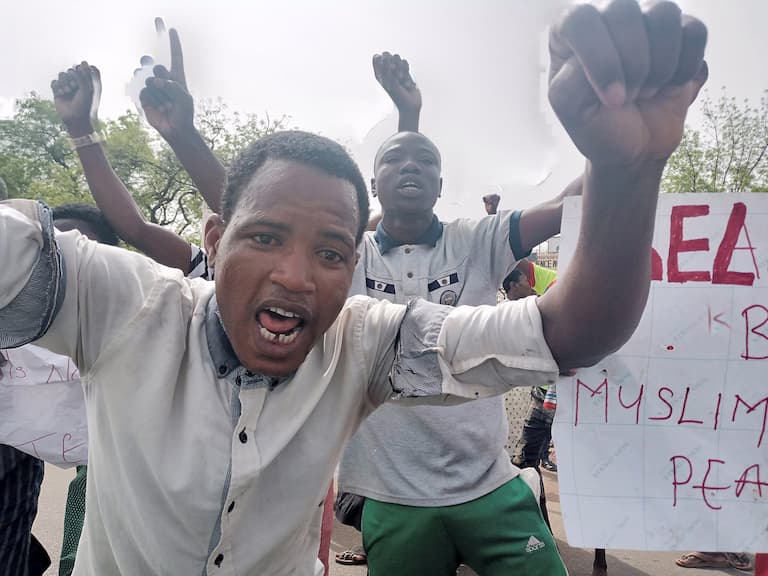 Residents of Sokoto State, mainly youths, are currently protesting over the arrest of two persons suspected to be involved in the killing of a female student of the Shehu Shagari College of Education, identified as Deborah Samuel, for alleged blasphemy.
The protesters in their numbers on Saturday stormed the Sultan of Sokoto's palace, setting up a bonfire near the building and demanding the release of the two suspects.
But armed policemen fired teargas canisters to disperse the angry crowd, during which two persons were reportedly injured.
Eyewitnesses said the protesters became violent and started hurling objects at the police.
The protesters wielded placards with inscriptions such as, "Release our Muslim brothers", Muslims Are Not Terrorists", among others.
Commenting on social media, one Jefiter John, asked residents to stay indoors and avoid areas where the protesters were.
Another social media user asked the government to declare curfew for peace to reign
Trouble started after the deceased was said to have made the blasphemous comment on a WhatsApp group where her classmates were.
Someone was said to have shared a religious post on the platform. Criticising the person, Deborah was said to have made blasphemous statement against Prophet Muhammad.
"The college security personnel had to intervened by whisking her to their office but they were overwhelmed by students, who later killed her and set her body ablaze," sources said.
Governor Aminu Tambuwal had met with religious leaders on Friday to douse tension.