BREAKING Nnamdi Kanu To File Fresh Legal Actions Against Buhari Government Over Violation Of Rights, Detention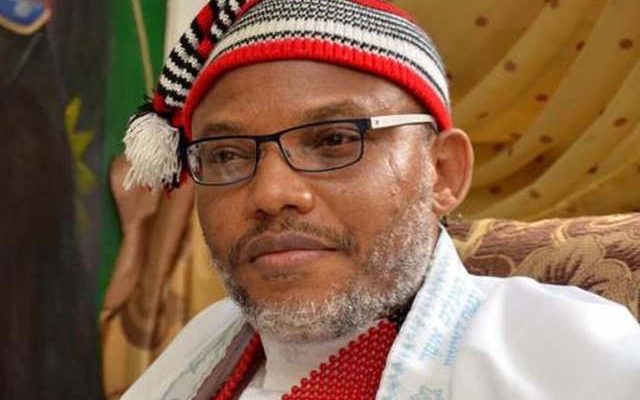 Detained leader of the Indigenous People of Biafra, Nnamdi Kanu, will be filing fresh legal actions against the Muhammadu Buhari-led Nigerian government in the coming days over his "abduction" and illegal rendition to Nigeria.
Ejiofor noted that the legal actions were carefully discussed and reviewed and there was hope that the IPOB leader would regain his freedom as soon as possible.
He said, "Our full legal team ably led by the foremost constitutional lawyer, human rights activist distinguished Senior Advocate of Nigeria (SAN), Chief Mike Ozekhome, jointly conducted today's court-ordered visit.
"Far reaching legal strategies were discussed and harmonized, and as usual, Onyendu was profoundly overwhelmed and delighted to host his full legal team, ably led by the legal Iroko of our time.
"Chief Ozekhome,SAN, took time to address all areas of legal interest as they affect Onyendu Mazi Nnamdi Kanu's case, including further fresh actions to be explored in challenging Onyendu's illegal kidnap and extraordinary rendition to Nigeria.
"In the coming days, our indefatigable legal team, eminently headed by the erudite Silk, Chief Ozekhome, SAN, will be unveiling further legal actions against the Federal Government of Nigeria (FGN) and all parties involved and responsible in the brutal abduction and extraordinary rendition of Onyendu Mazi Nnamdi Kanu to Nigeria.
"There must be legal consequences for the flagrant violation of Onyendu's extant constitutional rights, which included acts of torture, mental and physical meted out to him and his continued confinement in a solitary environment.
"More legal actions will be filed for the FGN to contend with in the coming days, even as we await the all-important court ruling on our preliminary objection, come  8th April, 2022.
"Onyendu appreciates his teaming followers and all Ezigbo UmuChineke for still resoundingly holding the forte in his absence. He commended all those who have remained steadfast despite all antics of the enemies – within and without. Onyendu encourages Ezigbo UmuChineke to maintain peaceful conduct and remain loyal to his structures, as they have always done.