BREAKING: 2023 Election: Peter Obi Weeps For Nigeria On Live TV [Video]
BREAKING: 2023 Election: Peter Obi Weeps For Nigeria On Live TV [Video]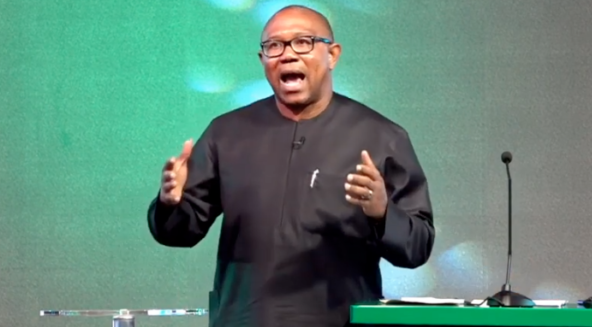 Peter Obi weeps on live TV over 2023 Election Results, says Labour won the election.
The Editor Nigeria reports that the flag bearer of the Labour Party (LP) in the just-concluded presidential election in Nigeria, Peter Obi says he won the poll and he will explore all legal options to reclaim his mandate.
Just at the commencement of his first media briefing after Saturday's presidential and National Assembly elections, Obi observed a one-minute silence for all injured and deceased victims of the February 25 poll.
"We will explore all legal and peaceful option to reclaim our mandate. We won the election and we will prove it to Nigerians," Obi said at a press conference on Thursday in Abuja.
"I am challenging the process," Peter Obi said to a room full of journalists in Nigeria's capital city, his first media appearance after the declaration of a winner by the electoral umpire.
"This is very unfair. It is the least expected of Nigeria," he said, adding that "a new Nigeria is possible, and I will work for that new Nigeria… Datti and I remain committed to that new Nigeria."
Asked if he is under pressure, Peter Obi said no one can put him under pressure for challenging the rascality, saying that: "We have to go through this darkness. The structure of criminality can't go out overnight.
"All we need to show is commitment and resilience. I will be at the forefront and will work through this darkness until daybreak," Obi vowed.
Obi, who lamented that Nigeria cannot conduct elections 63 years after independence, assured youths in the country that he is not going away but will stay and work for a new Nigeria.
The Labour Party Presidential Candidate said the poll did not meet the minimum standard for a free and fair election, adding that the poll will go down as the most controversial election conducted in Nigeria.
Peter Obi weeps video
Meanwhile, Newsone had reported earlier that the Independent National Electoral Commission (INEC) has declared the presidential candidate of the All Progressives Congress (APC) as the winner of the 2023 presidential election.
This online news platform understands that the Chairman of INEC, Prof. Mahmood Yakubu declared Tinubu the winner at exactly 4.10 am today in Abuja. By this declaration, Tinubu would be the 16th leader of Nigeria since independence in 1960.
<script="" src="//pagead2.googlesyndication.com/pagead/js/adsbygoogle.js">