Black Market Dollar To Naira Exchange Rate To 1st March 2023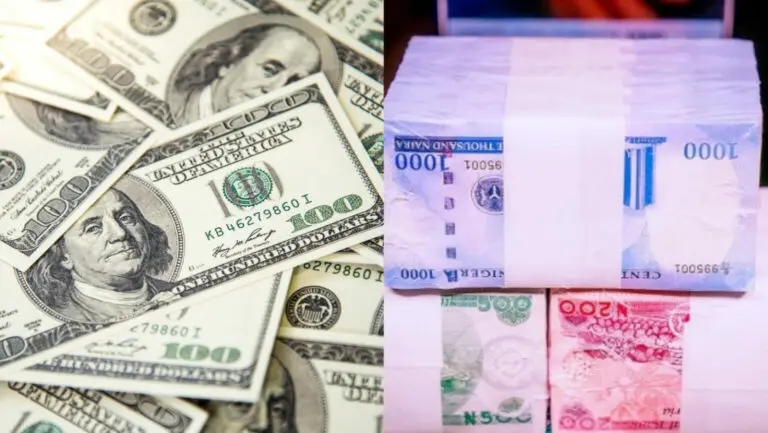 What is the Dollar to Naira Exchange rate at the black market also known as the parallel market (Aboki fx)? See the black market Dollar to Naira exchange rate for 28th February, below. You can swap your dollar for Naira at these rates.
How much is a dollar to naira today in the black market?
Dollar to naira exchange rate today black market (Aboki dollar rate):
The exchange rate for a dollar to naira at Lagos Parallel Market (Black Market) players buy a dollar for N766 and sell at N770 on Wednesday 28th February 2023, according to sources at Bureau De Change (BDC).
Please note that the Central Bank of Nigeria (CBN) does not recognize the parallel market (black market), as it has directed individuals who want to engage in Forex to approach their respective banks.
Dollar to Naira Black Market Rate Today
| | |
| --- | --- |
| Dollar to Naira (USD to NGN) | Black Market Exchange Rate Today |
| Buying Rate | N766 |
| Selling Rate | N770 |
Please note that the rates you buy or sell forex may be different from what is captured in this article because prices vary.
The Tesla boss and new owner of Twitter, Elon Musk has regained his spot back of being the world's richest person after staying at number two on the list for about two months.
Naija News gathered that, according to Bloomberg, a surge in Tesla stock is responsible for Musk's regained status back to the top of the Billionaires Index.
It was learnt that Tesla shares rose from 5.5% to $207.63 at 4 p.m. in New York, boosting Musk's net worth to $187.1 billion.
The Tesla boss was moved to number two on the list about two months ago by the CEO of the French luxury brand, Louis Vuitton, Bernard Arnault.
However, the nearly 70% surge in Tesla Inc.'s stock price this year, about 100% from its intraday low on January 6 as investors pile back into bets on riskier growth stocks amid signs of economic strength and a slower pace of Federal Reserve interest-rate increases surged Musk's wealth back to number one.