APPLY Now: Canadian University Scholarships for International Students 2023
APPLY Now: Canadian University Scholarships for International Students 2023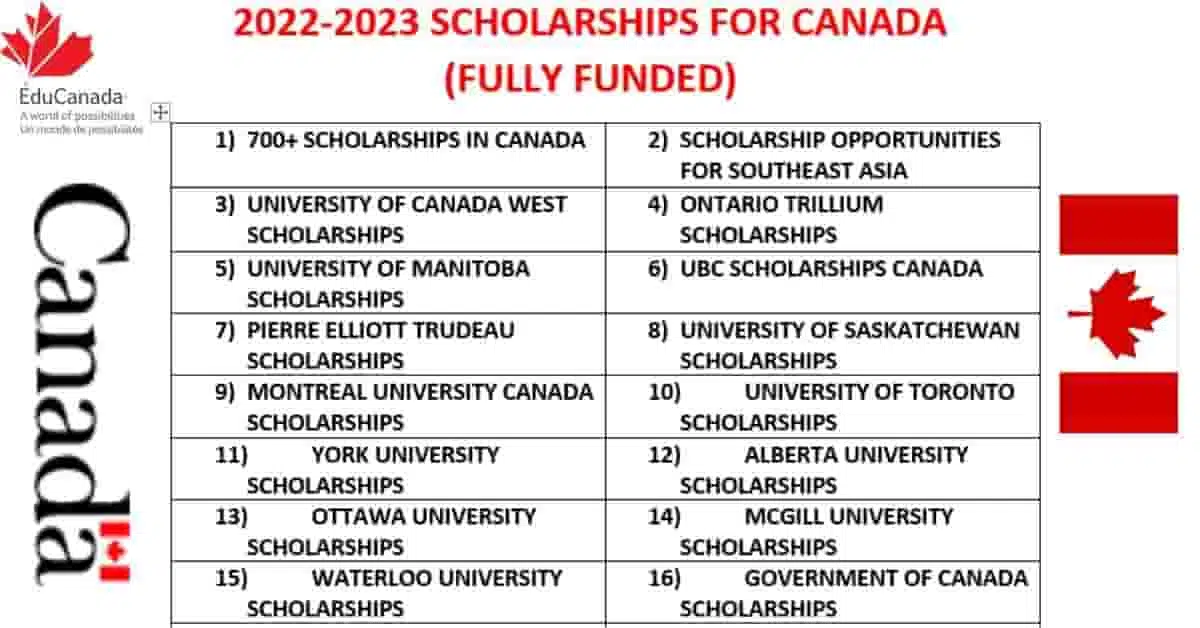 The Editor Nigeria
 reports that the Canadian University Scholarships for International Students for the academic year 2023 are on air. Submit online applications for the Fully Funded Canadian Scholarships 2023. There are very famous and top-notch fully funded scholarships in Canada are open. All students from any country with any nationality can apply. The Scholarships are open to enrolling in a 
Bachelor
, 
Master
, 
PhD
, 
Diploma
, and Post Doctoral degree program. The enrollment and admission process is open for international students.
List of Canadian University Scholarships for International Students 2023
Country: Canada
Capital: Ottawa
Currency: CAD Dollar
Degree Level: Bachelors, Masters, PhD
Financial Coverage: Fully Funded
1. Canadian Athabasca University Scholarships 2023
The Athabasca University Spring 2023 intake admissions are open. Athabasca University is one of the famous universities in Canada. The University of Athabasca has a versatile field for online undergraduate, doctoral, diploma, and graduate course programs and has an acceptance rate of 75%.
2. Canadian Lakehead University Scholarships 2023
This is a Canadian Public University and offers a Fully Funded scholarship to study at Lakehead University. The University has an Acceptance Rate of 83%. This means more students have higher chances of selection. Lakehead university offers undergraduate scholarships, and graduate scholarships.
3. Simon Fraser University (SFU) Scholarships 2023
Apply for the Simon Fraser University (SFU Scholarships 2023) without IELTS. Simon Fraser University is a public university located in British Columbia, Canada. The Undergraduate and graduate programs at SFU operate on a year-round, three-semester schedule.
4. Canadian Laval University Scholarships 2023
Study at Canadian Laval University on a Scholarship for the batch of 2023 for all international and Canadian students. Laval university has many scholarship programs. The last date to apply to the Laval university is 15th September 2022.
5. Canadian Ryerson University Scholarships 2023
Ryerson is a public university located in Ontario, Canada. It is home to more than 46,000 students and over 200,000 alumni worldwide.
6. Vanier Canada Graduate Scholarship 2023
The Vanier Canada Graduate Scholarship 2023 is a Canadian Government Fully Funded Scholarship. It offers Doctoral, and Post Doc Scholarships in Canada. It is open to all international students. It is the largest Scholarship by the Canadian government.
7. Lester B. Pearson International Scholarship 2023
The Lester B. Pearson Scholarship 2023 is a Fully Funded Scholarship at the University of Toronto. The Scholarship is for Undergraduate students to study Full-time four-year undergraduate programs. This scholarship will cover tuition, books, incidental fees, and full residence support for four years.
8. McGill University Scholarships 2023
McGill University Scholarships in Canada for the academic term Fall 2023, Winter 2023, and Summer 2023. Available for only Masters and PhD Scholarships in Canada.
9. Alberta University Scholarships 2023 Without IELTS
Alberta University has removed the IELTS requirement. Apply for the University of Alberta Scholarships in 2023 without IELTS for the academic term 2022-23. They have exempted Many Countries as well as Many Universities from giving an IELTS. Study in Alberta University without IELTS.
10. University of Waterloo Scholarships 2023
This scholarship is offered for Undergraduate, Masters and PhD studies. The University of Waterloo is a public research university in Canada. Waterloo University automatically grants scholarships.
11. Montreal University Scholarships 2023
The Montreal Scholarship 2023 continues for winter 2022, summer 2022, fall 2022, and winter 2023 terms. Apply and submit applications for the Montreal University Scholarships in 2023. It is the second-largest university in Canada.
You can apply to the following degree programs: Undergraduate, Masters, Doctorate, and Postdoctoral fellowships. The University is at Rank #4 in Canada and Ranked 73rd in the world.
12. McCall MacBain Scholarships 2023
The applications for the McCall MacBain Scholarships 2023 at McGill University are now open. Start your applications and apply online for the McGill University McCall Scholarship. Up to 30 full scholarships and 80 Entrance awards will be offered. This is a Fully Funded Canadian Scholarship.
13. University of Manitoba Scholarships 2023
The University of Manitoba spends 2 million every year toward its scholarship programs for graduate students. These scholarships are for Master's and Doctoral students.
14. University of Algoma Scholarships Canada 
The majority of scholarships are based on academic merit and your most recent academic history. If you are looking for a chance scholarship in Canada you might have your chance.